Lifestyle
BMW M Collection
Pure Adrenaline. In every fibre.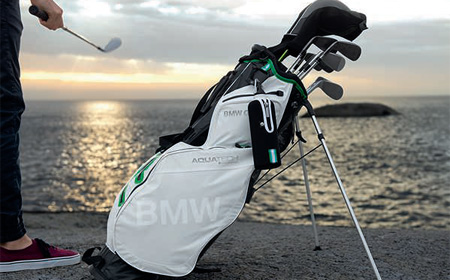 BMW Golfsport Collection
The difference is in the details.
BMW Modern Polo Shirt, ladies and men.

Sporty polo shirt with easy-slide zip and "Precise Character Line". Comfortable, figure-hugging fit. Very pleasant to wear thanks to premium cotton fabric. Premium knitted collar and cuffs. Tailored ladies' version.

BMW T-Shirt (v-neck), ladies and men.

Sporty v-neck t-shirt with "Precise Character Line" and a discreet sheen. Premium cotton blend fabric for superior comfort. Lightly tailored for ladies. BMW wordmark.

BMW Cap, unisex

This classic BMW cap perfectly complements the summer scarf. Rubberised logo print on the front and BMW pin silver on the back.

BMW Basic Men's Wallet, slim

This timeless men's wallet is made from premium embossed cowhide and has two notes compartments, space for ten credit cards and a slot with mesh window. It includes an inner flap with a snap-button closure. Stainless-steel-style BMW logo and card with "genuine leather" emblem.

BMW Style Sunglasses

These premium unisex sunglasses have a matt black acetate and metal design that lends itself to elegant and sporty styles alike. Other highlights include an inlaid BMW logo on the inside of the temple and discreet BMW wordmark print on lenses and temple. The especially flexible temples bend towards the inside as well as the outside, ensuring an optimal fit. UVA, UVB and UVC protection up to 400 nm. Case and cleaning cloth included.
BMW Cufflinks

These stylish cufflinks combine brushed stainless steel with a durable rubber inlay in the shape of the BMW kidney grille. The original design was developed especially for the BMW Iconic Collection. A swiveling stirrup closure means that they can be inserted without assistance.

BMW Money clip

This money clip evokes the shape of the characteristics BMW kidney grille. The sturdy hinged clasp keeps your notes securely in place while the grooved rubber inlay ensures a pleasant tactile experience. High-quality embossed BMW logo on the back. Made in Germany.

BMW Key Ring, Kidney Grille

The powerful looks of the BMW kidney grille provide an intriguing focal point for this elegantly shaped key ring. Made from brushed stainless steel two grooved rubber inlays, it is suitable for all BMW keys. Practical karabiner closure. Made I Germany.

BMW Key Ring, Single Kidney

This exclusive key ring evokes the design language for the typical BMW kidney grille. Made in Germany from brushed stainless steel with a high-quality grooved rubber inlay. Push-pull mechanism for easy opening and closing. Suitable for all BMW keys.
BMW 3 Series Touring (F31), 1:18 scale. 1:43 scale.

The design of the BMW 3 Series Touring is marked by its powerful front and elongated proportions – signaling agility even when the car is standing still. The spacious interior is a detailed reproduction of the original. The seatbelts are made of exactly the same material as in the big BMW 3 Series Touring, and the floor is covered with imitation carpet. With functioning steering wheel and rotating brake.

BMW 507 Convertible (1956), 1:43 scale.

A smaller version of a great classic. Designed by Count Albrecht von Goertz, this two-seater roadster is considered an icon of automotive design. Still a favourite among vintage car enthusiasts today, it has lost none of its charm. Characteristics design features include the very wide kidney grille and the side gills. Only around 220 cars from the original production run are left. Each is worth around 1 million euros, making the BMW 507 the most expensive and most valuable vintage car.

BMW M4 Convertible (F83), 1:18 scale.

Few cars embody dynamic performance more effectively than the BMW M4 Convertible. This miniature perfectly captures the essence of the original. All the doors as well as the bonnet and boot lid can be opened. The interior is lovingly detailed: the seatbelts are made of authentic seatbelt material, and the footwells and boot are flocked. Functional steering wheel and rotating brake discs.

BMW M4 Coupe (F82), 1:18 scale. 1:43 scale.

An instant adrenaline rush. True to BMW M design, the miniature of the BMW M4 Coupe impresses the eye with powerful, elongated coupe lines. Even the distinctive front air inlets have been lovingly reproduced. I addition, the door, bonnet and boot lid of the scale 1:18 scale miniature can be opened, and the seatbelts are made of authentic seatbelt material. The steering wheel works, too.

BMW X4 (F26), 1:18 scale. 1:43 scale.

The BMW X4 embodies the beat of BMW: dynamics and performance. This miniature reproduces the air inlets, colours and rims of the M sport package and features many special details. The doors, boot li and bonnet all open, and the brake discs and steering wheel turn. The seatbelts are made from original seatbelts material. The footwells and boot have a flocked finish that exactly recreates the original's appearance.
Motorsport Fan Polo Shirt, ladies and men

This polo shirt for fans has a motorsport truck design. Side slits with appliqué tape and embroidered M stripes. Visual highlights include a wraparound truck design and contrasting Team Blue colour. The ladies' version is lightly tailored.

Motorsport Sunglasses, unisex.

Very lightweight sunglasses. Comfortable temples with spring hinges ensure superior stability and make them easy to put on and take off. Light mirrored lenses. Reliable protection from UVA, UVB, and UVC rays. Hard case and microfiber pouch included.

Motorsport Team Cap for Collectors, unisex.

Cotton-lined collectors' cap with embroidered BMW Motorsport logo and wordmarks. Wraparound stripe on contrasting red. Sophisticated M stripe inserts. Adjustable for optimal comfort. With metal clasp.

Motorsport Rucksack.

Sporty rucksack with a Motorsport truck design. It features a well laid-out main compartment with a large opening and a padded, fleece-lined laptop compartment. The inside is Silver and features a print of the stylized racetrack outline. An easily accessible front pocket with fleece lining protects your mobile phone.

Motorsport Folding Umbrella

This large walking-stick umbrella combines excellent stability with powerful Motorsport looks. The red, plastic-coated steel frame with fiberglass stretchers can withstand even strong gusts of wind. For pleasant grip: rubberized handle with a tyre-style design and a three-dimensional BMW logo on the underside. Protective sleeve with carry trap included.
BMW M Carbon Tie

This premium silk tie made of jacquard cloth impresses with its elegant carbon look. Discreet BMW M logo on the front and back.

BMW M Polo Shirt, men.

This relaxed polo shirt is made of high-quality cotton pique and has a very comfortable fit, thanks to the longer cut of its back panel. Visual highlights: flat knit sleeve cuffs and accent piping featuring the M stripes design on the side slits. Coloured BMW M logo on the front left.

BMW M Carbon Chrono

This wrist watch has a powerful M design. Premium brushed stainless steel case and scratch-resistant mineral glass cover. Carbon watch face with tachymeter, luminous hands and red second hand. Matching perforated real-leather strap with red highlights. Reliable Swiss RONDA movement, stopwatch function, date display and small seconds display. Water resistant up to 10 ATM. Delivered in a premium gift box.

BMW M Wallet

The classic design of this wallet made of black calf leather impress the eye with inlaid leather strips in the BMW M colours. The front also features an embossed BMW M logo. The inside has very functional subdivisions, with eight card slots, two slots for notes, a coin section and three compartments for documents. The wallet's premium workmanship is underscored by robust leather reinforcement.

BMW M Personal Care Bag

Stylish and practical. This extremely lightweight personal care bag is made of smooth nylon with special top coat creating a convenient washable surface. Non-skid rubber feet keep the bag dry and ensure that it stands securely. Inside, the bag provides many handy compartments, including an extra mesh pocket for toothbrushes, to keep things nice and hygienic.
Goldsport Polo Shirt, ladies

This pleasantly lightweight, breathable and fast drying polo shirt is fashioned from a microfiber material. This elastic fabric ensures full freedom of movement. Seamless sides and integral shoulder area. Overlapping stripped ribbed cuffs on the sleeves and hem provide a sophisticated finish. Dimple mesh inserts. Long plackets. Ribbed collar with a stripes design.

Golfsport Functional Cap, unisex.

Quick-drying, water-repellent and lightweight cap. Size can be adjusted by means of a metal clasp with a discreet embossed BMW logo. Peak edge with contrasting green piping. Striped woven tape on the side, for a sporty and elegant look.

Golfsport Functional Umbrella

Sports umbrella with automatic quick-opening function. An ultra-lightweight yet sturdy fiberglass frame ensures excellent handling and durability. Highlight: dual canopy which prevents the umbrella from inverting when exposed to high winds. Ergonomically shaped, water-repellent hard foam handle with BMW logo on the underside. Light-refelcting silver-coloured inner canopy.

Golfsport Carry Bag

This ultra-lightweight, waterproof OGIO carry bag comes with a comfortable four-point shoulder strap system with soft padding and individually adjustable straps. Aluminum legs with automatic activator mechanism and anti-sink foot pads ensure optimal ground contact at all times. Easy-grab handle. Seven club compartments, five outer pockets and two inner pockets, one with an insulated drinks compartment. Convenient hook-and-loop glove patch. A fleece-lined outer compartment protects your valuables and smartphones.

Golfsport Gift Set

Cool gift set in the shape of an oversized golf ball. Includes functional cap, pitch fork and Titleist Pro V1 golf balls. Solid, detachable stand in the shape of a tee. Can also be displayed as a ball: simply replace the stand with the clip-on BMW logo supplied.